What is Experiential Education? Why this is so important (and how that can be dangerous).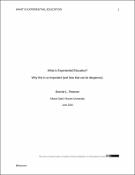 Publisher
Mount Saint Vincent University
Abstract
The goals of this study are to determine whether there is a clear definition or shared understanding of experiential education, to explore the history of the concept of experience related to education and knowledge, to look at how related terms are used in educational research, and to consider what the impact of this might be on the modern education system. An extensive literature review on the changing definitions and concepts related to the subject of experience and education over the last 2,000 years is given; further chapters explore modern use of related terminology and research that contribute to miscommunication and confusion on the subject. No firm conclusions on agreed definitions are given, however, underlying agreements on educational approaches are highlighted, leading to research questions for the future.
Keywords
Experiential education, educational research, education history, education terminology