Sixty years of the Nova Scotia math curriculum: What's changed?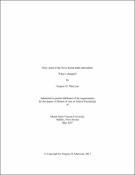 Publisher
Mount Saint Vincent University
Abstract
The Department of Education is currently in the process of revising the educational curriculum to align with the Western and Northern Canadian Protocol (WNCP). This change was motivated by concerns that the curriculum objectives had become too numerous and too difficult to teach to. Prompted by this, the present retrospective review explores the ways that the NS curriculum has changed over the past 60 years in terms of: number of curriculum objectives, whether those objectives are well-defined, and their cognitive characteristics as defined by the Revised Bloom's Taxonomy of learning objectives. Findings suggest that the NS math curriculum has been shifting from concrete and practically oriented to increasingly abstract and conceptually oriented objectives, but that this shift to conceptual understanding is not necessarily accompanied by an increase in vague or ill-defined outcomes.
Keywords
Nova Scotia, math curriculum