The influence of role-playing games on perceived social competence: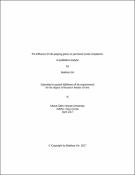 Publisher
Mount Saint Vincent University
Abstract
This study examined the relation between tabletop role-playing games and social competence in young adults. A mixed methods approach was used to extend previous research in this area. The Strengths and Difficulties Questionnaire was used to assess perceived social competence from participants and semi-structured interviews were conducted to collect detailed qualitative data about experiences with role-playing games. Six young adults (3 men, 3 women) between the ages of 19 and 24 (M = 21.2, SD = 2.6) participated. Responses on the SDQ indicated that people who play role-playing games have typical strengths and difficulties with respect to social competence. The qualitative description indicated the emergence of four themes: Content Focus, Social Focus, Creativity Focus, and Identity Focus. These themes are consistent with findings from previous case study research, in that role-playing games may have the potential to improve social competence.
Keywords
Role-playing games, social competence,