Noticing and engaging the mathematicians in our classroom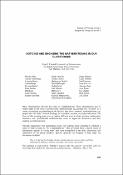 Publisher
Canadian Mathematics Education Study Group / Groupe Canadien d'Étude en Didactique des Mathématiques
Abstract
Many characteristics describe the work of a mathematician. These characteristics just as readily apply to the work of "professional" mathematicians (e.g. people who "do math" as a career, researching and publishing in the field) as they do to "amateur" mathematicians (e.g. people who "do math" (without funding), be it students, teachers, or teacher educators). The focus of this working group was to explore different ways in which teachers, mathematics educators, and (professional) mathematicians come to appreciate themselves and their students as mathematicians. Through engagement with mathematical tasks, our working group attempted to establish a sense of what it means to "be a mathematician." This developed from a shared vision of fundamental aspects of "doing math" that were exemplified in the tasks, discussions and experiences of our group members. Specific questions we designed to help shape our discussions included: How is it that teachers/teacher educators/mathematicians come to notice and foster mathematical thinking in primary, secondary, and tertiary classrooms? This question is motivated by Wheeler's concern that "the majority of teachers [do] not encourage their students to 'function like a mathematician'" (Wheeler, 1982, p. 46). How can we as teachers engage students as mathematicians and what types of tasks model what it is that mathematicians "do"? This question is motivated by a recognized disconnect between how students experience mathematics in the classroom and how professional mathematicians experience mathematics in research (e.g. Boaler, 2008; Lockhart, 2009).
Keywords
Mathemematicians
,
Mathematics education
Citation
Chernoff, Knoll and Mamolo. Noticing and Engaging the Mathematicians in our Classrooms (Working Group Report). In Liljedalh, (Ed.), Proceedings / Actes Annual Meeting / Rencontre Annuelle, 2010, pp. 107-122, 2011.
Collections