Challenges assessing statistics attitudes​: Opportunities and costs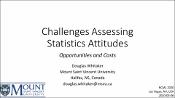 Abstract
This presentation compares different ways to assess the Expectancy Value Theory construct, Cost, using instruments in statistics education. Empirical results and new directions are included.
Keywords
Statistics
,
Education
,
Expectancy Value Theory
Citation
Whitaker, D. (2020, March). Challenges Assessing Statistics Attitudes : Opportunities and Costs. Paper presented at the 47th Annual Meeting of the Research Council on Mathematics Learning, Las Vegas, NV.
Collections