Breastfeeding support in Nova Scotia: Exploring the gap between policy, health professionals' work practices and the everyday experience of mothers facing food insecurity.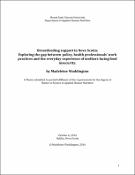 Publisher
Mount Saint Vincent University
Abstract
Background: Breastfeeding is an important contributor to household and community food security. However, lower breastfeeding rates among low-income families represent a health inequity with negative impacts on infant, household and community food security, as well as the health of future generations. Furthermore, despite breastfeeding and food security being public health priorities in Nova Scotia (NS), compared with the rest of Canada, Nova Scotian mothers have lower breastfeeding initiation and duration rates, and relatively higher rates of food insecurity. Although there is some research suggesting why these disparities occur, the direct impacts of the experience of food insecurity on infant feeding decisions are not well understood. Purpose: This research explores the experience rural NS mothers facing food insecurity in making infant feeding decisions. It aims to explicate the social interactions between mothers and health professionals (HPs), including but not limited to PHNs, and how they are shaped by institutional factors at the health system level that pose structural barriers to breastfeeding among this population. Methods: Phase 1 involved secondary data analysis of interviews and focus groups conducted among mothers who both met and did not meet their breastfeeding goals. Transcripts were selected for analysis based on the vulnerability of participants to food insecurity, identified by transcript content or recruitment channels. Phases 2 and 3 involved primary data collection through in-depth interviews using a critical health literacy perspective; all participants were recruited from Antigonish, Guysborough or Cape Breton Island. Phase 2 interviews were conducted with 5 mothers who recently breastfed (or tried to breastfeed) and had experienced food insecurity, as identified by the Household Food Security Survey Module. Phase 3 interviews were conducted with 5 PHNs working in breastfeeding promotion. Results: Perceptions of HPs as "experts" may influence mothers' decisions to breastfeed; however, "breast is best" discourse can contribute to feelings of shame and guilt when breastfeeding is unsuccessful. Most mothers had positive experiences with PHNs and other HPs and felt their support was important to achieving success with breastfeeding. However, mothers also recognized the importance of peer support in empowering mothers to trust their own experiential knowledge, allowing them to reject expert discourse and to make infant feeding decisions that were appropriate for their life circumstances. Although almost all participating mothers in Phase 2 mentioned cost savings as a key motivation for breastfeeding, some described a lack of nutritious food for themselves as a significant breastfeeding barrier, showing how food and income supports can be important in helping to alleviate stress around their own food intake and their ability to successfully breastfeed. In contrast, PHNs interviewed did not perceive food insecurity itself as a barrier to breastfeeding, but described how stressful life circumstances associated with food insecurity make breastfeeding more difficult. Despite this understanding, PHNs described a limited ability to address food insecurity among breastfeeding mothers in their practice. PHNs descriptions of their role in breastfeeding support were often limited to information provision and encouragement only. Trends towards upstream, health promotion strategies in public health and recent changes in structure of the NS health system were barriers to providing vulnerable women living in rural communities with sufficient breastfeeding support. Conclusions & Recommendations: PHNs, as well as other HPs, can play an important role in supporting breastfeeding and enabling mothers to exercise autonomy in their infant feeding decisions. However, mothers vulnerable to food insecurity may require unique supports in order to successfully breastfeed. A breastfeeding literacy approach may help to situate breastfeeding within community food security, potentially countering unsupportive "breast is best" discourse. Ideally, a more critical approach combining both expert and experiential knowledge may help HPs to further understand the complexity of infant feeding, which in turn may empower mothers. These results also demonstrate a disconnection between breastfeeding as a named priority for public health and a lack of mandate to address food insecurity in PHNs' practice. Policies around breastfeeding support should consider the first voice experience of mothers with experience of food insecurity to ensure that institutional changes do not disproportionately affect those vulnerable to food insecurity. Overall, achieving a balance between upstream action and individual support to address breastfeeding among mothers experiencing food insecurity will require thoughtful coordination of inter-professional practice across all levels of the NS health system.
Keywords
Breastfeeding, food security, Nova Scotia