Journey to fostering cultural identity: are there any roads leading to the black church? A case study of three churches in Nova Scotia.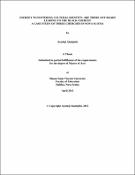 Publisher
Mount Saint Vincent University
Abstract
The Black church, which I define as a church with a Black clergy, a predominately (at least 70%) Black congregants and an orientation towards African cultural values, is often considered an important institution within the Black community, yet it has received minimal attention from scholars in the field of lifelong learning/adult education. Using a qualitative method of inquiry supported by a theoretical framework that includes Africentricity, critical race theory, and post colonialism, this thesis examines the role of the Black church in reproducing and affirming an African cultural identity among the congregants of African ancestry. The study centres the voices of 17 congregants from three churches in Nova Scotia: Emmanuel Baptist Church, the Redeemed Christian Church of God, and St. Phillip's African Orthodox Church. By using both inductive and deductive thematic analysis, emerging themes suggest that these religious organizations provide valuable learning activities and promote community involvement that enhance intrinsic values such as, the feeling of home, a sense of belonging, empowerment, cultural grounding, heritage, traditions, identity, and spiritual grounding. These values align with the broader themes found in the data: shared cultural experiences, culturally relevant learning, social engagement, and a sense of community. By exploring how these churches effect change among congregants and the community at large, it is clear that these churches are agencies of significance for the Black congregants, particularly within a racially diverse multicultural society.
Keywords
African Nova Scotians
,
Africentricity
,
African Nova Scotians - Church