Nursing Home Physical Design and Homelikeness: How Does It Impact Quality of Life for Long-Term Care Residents in Nova Scotia?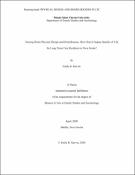 Publisher
Mount Saint Vincent University
Abstract
Understandings of quality of life in nursing homes often include the importance of homelikeness but not necessarily from the resident's perspective. This research explored nursing home physical design and its role in residents' perceptions of homelikeness and quality of life. It involved a secondary analysis of data collected as part of the Care and Construction study, including 15 in-depth interviews with residents from three nursing homes in Nova Scotia. Interviews were analyzed using grounded theory techniques (Corbin & Strauss, 2008). Ecological theories were utilized as a conceptual framework for understanding nursing home residents' relationships with, and perceptions of, the physical environment. Three overarching themes emerged from resident interviews: (a) renegotiating relationships, (b) having autonomy and choice and (c) experiencing homelikeness, and these themes were woven together by the common thread of continuity. Continuity represented various aspects of how residents talked about the home and its homelike (or unhomelike) characteristics: the importance of continuity of care; facilitating a continuation of residents' hobbies, preferences, and lifestyle from before they were living in the home; and the ability to maintain existing relationships and develop new meaningful relationships. The theme addressing autonomy and choice suggests the importance of a nursing home that is person-centered in its design and practices, while the theme addressing homelikeness and relationships highlights dimensions of homelikeness and their relationship to physical design features and the social environment. Physical design contributed to residents' perceptions of homelikeness in conjunction with other factors, but it does not appear to be in itself what determines what residents perceive as homelike. It was more the physical environment in general those residents referred to which suggests that the physical design of the nursing home does not necessarily limit the likelihood of a home being perceived as homelike. It seems more likely that the physical design sets the stage for other characteristics to be present, which appear to be more of what residents have identified as homelike to them. Physical design lays the groundwork both literally and figuratively for certain policies, practices, relationships, and choices to be carried out and appears to play both direct and indirect roles in residents' perceptions of homelikeness. Homelikeness from the resident perspective shares many qualities with the International Resident Assessment Instrument's (interRAI) quality of life domains (Kehyayan et al., 2016), suggesting that homelikeness may be an important aspect of quality of life for residents. Nursing home residents' voices should be honoured in order to capture the complexity of notions such as homelikeness and inform more personcentered long-term care policy and planning, including design guidelines.
Keywords
Nursing Home Physical Design, Homelikeness, Quality of Life, Long-Term Care Residents in Nova Scotia