An Exploration of the Factors That Influence The Practice Choices of Family Medicine Residents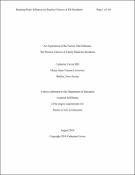 Abstract
Background and Objective: Comprehensiveness of practice is declining among family physicians. This study was undertaken to discover what educational factors might influence family medicine residents to undertake a more comprehensive practice. Method: A survey was administered to first year residents at the beginning of their residency asking them: their intentions to include 11 clinical and 4 non-clinical aspects of family medicine in their future practice; the reasons for these choices and which province, type of community and type of practice they envisioned for their future. They were also asked to rank the importance of a series of factors influencing choice of community. A model of career (practice) choice was developed from the literature, which infomned survey development and interpretation of the survey results. Results: The response rate was 80% or 36/45 residents. Many aspects of the proposed career choice model were supported by the survey results. Influences on practice choice included: resident attributes (personality, values, background), significant others, educational and life experiences and aspects of future practice that were viewed as attractors or detractors. A definition of comprehensive practice was created. Fifteen (47%) of the respondents intended to undertake comprehensive practice and a further l4 (32%) were undecided (i.e. could still be considering comprehensive practice). Twenty-seven (75%) intended to practice in the Maritimes at some time and l2 (33%) were planning a rural practice. Employment for their spouse was the most important factor in choosing a community for all respondents. The practice aspects were sorted into two clinical groups: practice core and clinical challenges and a third non—clinical group. Respondents chose many reasons to include the practice core and clinical challenges. At the same time residents indicated that the clinical challenges could interfere with their family lives, be too stressful and they feared not being well trained by the end of residency. Among the non—clinical aspects of practice, teaching was viewed very positively and administration very negatively. Conclusion: Based on the survey results, the proposed career choice model and the literature, recommendations for changes to family medicine residency programs to encourage graduates to undertake a more comprehensive practice are suggested.
Keywords
Family medicine -- Maritime Provinces
,
Physicians -- Vocational guidance -- Maritime Provinces.
,
Residents (Medicine) -- Maritime Provinces -- Attitudes