The role of hope in school-aged children's emotional well-being in relation to school environment and optimism/pessimism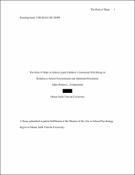 Abstract
Interactions between classroom climate, dispositional optimism, and hope were examined in the prediction of emotional well-being in early adolescent students. The present study consisted of 98 students (32 boys, 65 girls, 1 unknown) in grades six, seven, and eight with a mean age of 12.51 years (SD = .95). Participants completed questionnaires regarding their classroom environment, future expectations, hopeful thinking, depression, and life satisfaction. Hierarchical multiple regression analyses revealed eleven interactions between classroom climate/dispositional optimism and hope in the prediction of depression and life satisfaction. As an example, it was found that classroom competitiveness was negatively related to satisfaction with friends for students low in hope but not for students with high hope. Implications of these interactions are discussed in terms of hope as a psychological strength and its role in promoting emotional well-being in early adolescent students.
Keywords
Optimism in children -- Nova Scotia
,
Middle school students -- Psychology.
,
Depression in children -- Diagnosis
Collections