Investigating 'Epistemologically Correct' Experiences of Mathematical Learning Expériences d'apprentissage mathématique « épistémologiquement correctes » : une investigation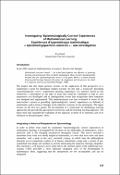 Publisher
Canadian Mathematics Education Study Group / Groupe Canadien d'Étude en Didactique des Mathématiques
Description
Excerpt from Introduction: "The project that this report presents focuses on the application of this perspective to a mathematics course for elementary student teachers. To this end, a framework describing 'epistemologically correct' mathematics learning experiences was outlined. Based on this framework, a description of the type of tasks that could be considered to lead to such experiences was developed, and an undergraduate course that encapsulates these intentions was designed and implemented. This implementation was then evaluated in terms of the intervention's success at providing 'epistemologically correct' experiences (as defined) of mathematics and in terms of changes in the affective responses of the participants. The report focuses on the first two points: the development of a framework for developing teaching approaches that provide the appropriate experiences, and the resulting teaching approach. The thesis itself also included the evaluation of the approach in terms of its intention, and of its influence on the participants' affect."
Keywords
Elementary school education
,
Mathematics
,
Mathematics education
Citation
Knoll, E. (2008). Investigating 'Epistemologically Correct' Experiences of Mathematical Learning Expériences d'apprentissage mathématique « épistémologiquement correctes » : une investigation. In Bernèche, Liljedalh, Oesterle, (Eds.), Proceedings / Actes Annual Meeting / Rencontre Annuelle, 2008, pp. 133-140.
Collections