Helping for the sake of helping: Can altruism be predicted from a child's temperament, selfesteem, and parents' meta-emotion?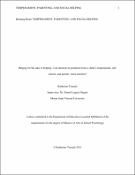 Publisher
Mount Saint Vincent University
Abstract
Altruism is a voluntary prosocial behaviour with the intention of benefiting another person (Kakavoulis, 1998). Multiple factors may be related to altruism, such as a child's temperament, parental emotional style, and self-esteem. The present study aimed to assess the relative contributions of these factors to children's altruistic behaviour. Children, aged 11 and 12, and their parents, participated in the study. Children completed self-ratings of altruism and selfesteem while parents completed ratings of parental meta-emotion and children's temperament. It was expected that children with high self-esteem and who were high in sociability but low in shyness, and who had parents that espoused an emotion-coaching parenting style would rate higher on altruistic tendencies than children who had lower self-esteem, were lower in sociability, higher in shyness, and had parents who espoused a dismissing parental emotional style. Emotion-coaching and emotion-dismissing parenting styles were found to be related to each other. Shyness was negative correlated with sociability and positively correlated to self-esteem. No variables were significantly correlated with children's altruistic tendency. Results are discussed in terms of all children displaying a tendency to be altruistic and relevance to the school setting.
Keywords
Altruism in children
,
Temperment in children
,
Self-esteem in children
,
Parenting