Experiencing information literacy in Second Life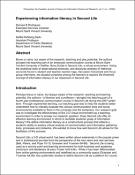 Publisher
Partnership: the Canadian Journal of Library and Information Practice and Research.
Abstract
Brave or naive, but aware of the research, teaching and play potential, the authors plunged into teaching part of an employee communication course at Mount Saint Vincent University in Halifax, Nova Scotia in Second Life, a virtual environment. Using the analytical tools of observational protocols, and discourse analysis of rhetorical accounts found in student and teacher reaction logs, discussion transcripts and focus group interviews, we situated ourselves among the learners to explore the threshold concept of information literacy in our classroom in Second Life.
Keywords
Communication
,
Discourse analysis
,
Study and teaching
,
Virtual reality
,
Information literacy
Citation
Rodrigues, D., & Sedo, D. (2008). Experiencing information literacy in Second Life. <em>Partnership: The Canadian Journal of Library & Information Practice & Research</em>, 3(1), 1-20.
Collections