Social Economy and Sustainability Research Network, team meeting 2008 posters.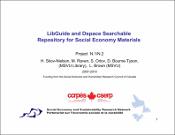 Authors
Social Economy and Sustainability Research Network
Abstract
The Network held its third full team meeting with over 50 members of the team in attendance. Many also participated in Memorial University's Knowledge in Motion Conference which was held the same week. Those responsible for each research project in the Network were asked to develop a poster outlining the project's main objectives. On Friday, Oct. 17, we hosted an informal Research Poster and Information Session where Network members and invited guests viewed and discussed approximately 40 such posters! This session was well received, and the posters have been circulating throughout the Network as the Node and Sub-nodes host other similar events throughout the fall and winter. The posters are shared below, along with a hyperlinked version of our agenda, sharing presentations made by our team members in our own sessions and in the KIM conference.
Keywords
Fishery
,
Food security
,
Women
,
Community
,
Adult education
,
Youth
,
Coops
,
Parents
,
Food
,
Survey
,
NB
,
NFLD
,
PEI
,
Policy
,
Fishing
Collections