Internationally educated female teachers' transformative lifelong learning experiences: Rethinking the immigrant experience through an arts-informed group process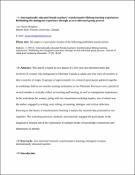 Publisher
Journal of Adult and Continuing Education/Manchester University Press
Abstract
This article is based on two phases of a five year arts-informed study that involved 24 women who immigrated to Maritime Canada as adults and who were all teachers in their countries of origin. In groups of approximately six, research participants gathered together in workshops held in two teacher training institutions in two Maritime Provinces over a period of several months to critically reflect on teaching and learning, as well as immigration experiences. In the workshops the women, along with two researchers/workshop leaders, one of whom was the author, engaged in writing, story telling, art-making, dialogue, and critical reflection. Drawing on the theory of transformative learning I analyse the research data presented in two vignettes. The workshop practices, methods, and materials engaged the participants in the imaginative domain and in the exploration of multiple modes of knowledge construction and dimensions of identity.
Keywords
Arts-informed research
,
Transformative learning theory
,
Immigrant women
,
Internationally educated teachers
Citation
Brigham, S. (2011). Internationally educated female teachers' transformative lifelong learning experiences: Rethinking the immigrant experience through an arts-informed group process. Journal of Adult and Continuing Education, 17 (2), 36-50.
Collections