Money Worries: Tackling the Challenges of Funding Arts-Related Research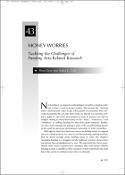 Abstract
Excerpt from Chapter: "No handbook on research methodologies would be complete without at least a nod to money matters. But because the "starving artist" phenomenon is just as apt a description of researchers who variously incorporate the arts into their work, we did not see ourselves writing a guide to successful procurement of pots of money; nor did we imagine writing an issues-based essay on the "whys," "wherefores," and "whethers" of seeking funding for alternative genre research.1 Rather, we were more interested in getting a sense of the overall funding picture in the small but growing international community of artist-researchers."
Keywords
Research Funding
,
Arts-Informed research
Citation
Gray, R., & Cole, A. L. (2008). Money matters: Funding alternative genre research, In J. G. Knowles and A. L. Cole (Eds.). Handbook of the arts in qualitative research: Perspectives, methodologies, examples, and issues (pp. 503 - 510). Thousand Oaks, CA: Sage.
Collections