Webinar: The Environmental Imperative: Do Co-operatives Have Something Unique to Offer?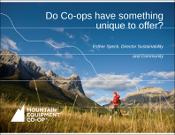 Publisher
Measuring the Co-operative Difference Research Network
Description
This webinar was organized in partnership with CCA's Member Services department and explored the dimensions of sustainability in the co-operative movement. The two speakers, Esther Speck (Director of Sustainability and Community with MEC) and Maureen Cureton (Green Business Manager with VanCity Credit Union) reviewed whether co-operatives serve as leaders in environmental innovation and commitment. The URL above leads to a recording of the webinar on Youtube.
Collections