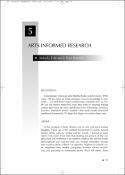 Abstract
Excerpt from chapter: "The transformative potential of artsinformed research speaks to the need for researchers to develop representations that address audiences in ways that do not pacify or indulge the senses but arouse them and the intellect to new heights of response and action. In essence, and ideally, the educative possibilities of arts-informed work are foremost in the heart, soul, and mind of the researcher from the onset of an inquiry"
Keywords
Arts-Informed research
,
Researchers
Citation
Cole, A. L., & Knowles, J. G. (2008). Arts-informed research, In J. G. Knowles and A. L. Cole (Eds.) Handbook of the arts in qualitative research: Perspectives, methodologies, examples, and issues (pp. 55 - 70). Thousand Oaks, CA: Sage.
Collections