The marketing of nursing jargon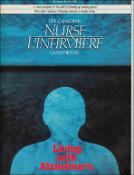 Publisher
Canadian Nursing Association
Description
"Several weeks ago I was doing some research for a class I will be teach­ ing my student nurses, research that involved the development of nursing theories. As 1 read through the litera­ture, one of my personal annoyances about the nursing profession began to surface and I was motivated to comment. The particular sentence that inf1amed my rage was, "The range of specificity of the theoretical formula­tions within nursing science varies greatly."I Roughly translated, this probably means "some nursing theor­ies are more specific than others." Why, then, did the author not say that? In its simplest form, the problem consists of verbal diarrhea. More serious is the use of makeshift words, up to and including the development of an entire vocabulary that is totally incomprehensible to anyone outside the nursing profession." — Excerpt from introduction.
Keywords
Nursing communication
,
Professional language
Citation
Houlihan, Patricia J. "The marketing of nursing jargon," Canadian Nurse, 82 (February, 1986), 21-22.
Collections