When your patient is a transplant recipient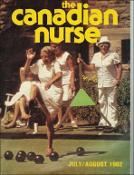 Publisher
Canadian Nursing Association
Abstract
Approximately 1,000,000 Canadians suffer from some type of renal disease, ranging from kidney stones to end·stage renal failure. While there are naturally many different forms of treatment depending on the condition, kidney transplantation is now considered a viable solution to end·stage renal failure when other methods of treatment are inadequate. Techniques have developed to the stage where kidney transplantation is considered a routine medical/surgical procedure. Newer and more efficient methods of tissue·typing, more effective immunosuppressant drugs and better understanding of the human immune system, now enable many individuals to resume a life that is closer to "normal" than that afforded by chronic dialysis.
Keywords
Renal disease - patient care
,
Kidney transplantation
,
Organ Transplant
Citation
Houlihan, P. (July/August, 1982).40-44. When your patient is a transplant recipient. The Canadian Nurse.
Collections