Reform and "being true to oneself": Pedagogy, professional practice, and the promotional process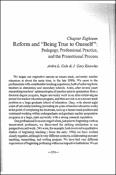 Description
Excerpt from Chapter: "This chapter is a continuation of our dialogical reflection on academic life. In a sense, it is a culmination of our earlier pre-tenure discussions (see, Knowles & Cole. 1994; 1995). Drawing on aspects of Gary's experience as a beginning professor in particular. we consider the prospects (?) of teacher education reform. When we first conceptualized our chapter on beginning professors and teacher education reform, we did not intend to present elements of very personal experiences and perspectives as now represented. Circumstances related to Gary's tenure application guided us in a new direction, as we will soon make clear."
Keywords
Educational Reform
,
Teacher Education
,
Tenure and Promotion
,
Academic Life
Citation
Cole, A. L., & Knowles, J. G. (1998). Reform and "being true to oneself": Pedagogy, professional practice, and the promotional process. In A. L. Cole, R. Elijah, & J. G. Knowles (Eds.), The heart of the matter: Teacher educators and teacher education reform (pp. 353-376). Caddo Gap Press.
Collections