Context Matters: Visual Inquiry and Qualities of Engagement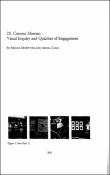 Publisher
Backalong Books/Centre for Arts-Informed Research
Description
Excerpt from chapter: "What does it mean to use visual art as process and representational form in research? What issues arise from the language images? How does context influence form, audience, comm tion and the ethical dimensions of our work? And how do visual images as inquiry engage audience members in critical discussion about justice, accessibility and social change?"
Keywords
Alzheimer's desease
,
Arts-Informed research
,
Visual Inquiry
Citation
McIntyre, M., & Cole, A. L. (2007). Context matters. In J. G. Knowles, A. L. Cole, T. Luciani , & L. Neilsen (Eds.). The art of visual inquiry (pp. 309-326). Halifax, Nova Scotia & Toronto, Ontario: Backalong Books & Centre for Arts-informed Research.
Collections